---
 INTRODUCTION

---
Probably every producer, singer and songwriter's dream to meet the legend that is Quincy Jones; to get to co-produce an event with the man himself….wow, this was a mind blowing experience!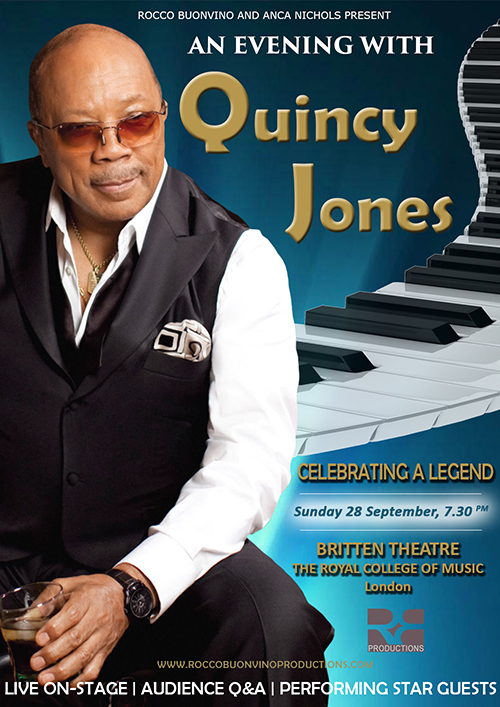 I was one of the co-producers of ''An Evening with Quincy Jones'', alongside Rocco Buonvino Productions, event held in London on 28th September 2014 at the famous and intimate 400 seats Britten Theatre – Royal College of Music. A project not many would have dared to take on due to dangerously time constrains: less than a month to book, stage and sell an event.  But when a name like Mr Jones becomes available, it is difficult to say no, you just seize the opportunity and make it happen!
The event was initially scheduled as an on-stage interview with Quincy, followed by a Q&A session with the audience, but we all decided that we need something more spectacular to match the legend we have the unbelievable luck to work with.  So a band was booked alongside ten artists to provide the pre-entertainment.
Paul Pacifico and his AllStars Collective band had only days to get the show running, learn all the songs and rehearse with the artists.  Top musicians who played with some of the best artists out there as you can see on their website, they provided world class entertainment as expected.
Major thanks to the amazing performers: Beverley Knight, Mica Paris, Jocelyn Brown, Kenny Thomas, Jacob Collier, Sarah Jane Morris, Hamish Stuart, Sonique, Susan Black and Sulene Fleming.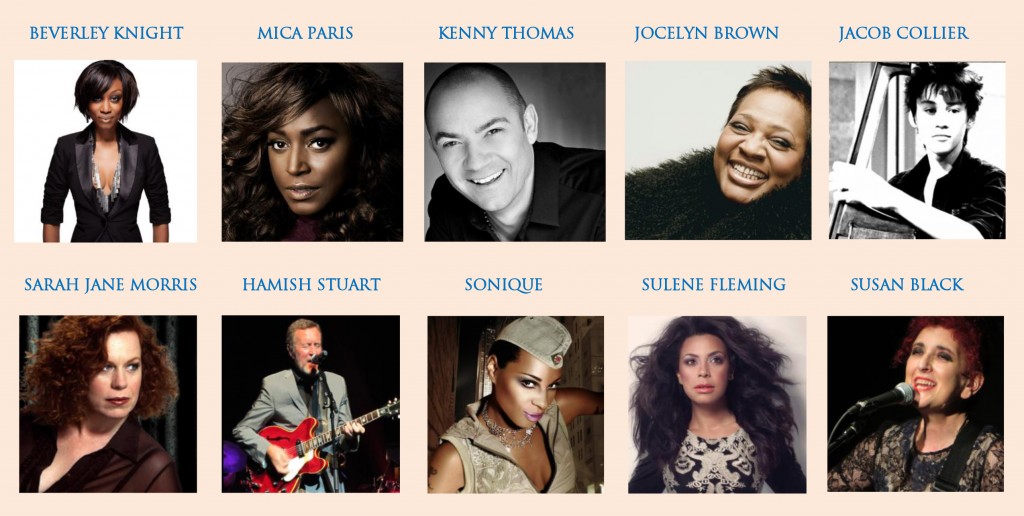 Rossco P.A. and Sound Design who took care of the stage and sound as well as redecorating the entire venue, arrived early morning with a huge load of equipment.  It was a big job getting the place ready and time wasn't on our side.
Beautiful mayhem backstage, almost 100 people in a fairly small space: stage production team, over 20 musicians, production team, security team, the guest artistes and their entourages, children choir…. But it all flows so well when everybody enjoys their work, it was a race against time to get everything ready before Quincy's arrival.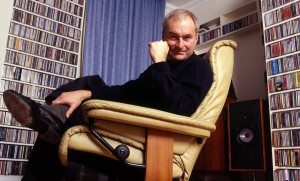 The Great Gambo, The Professor of Pop himself, Paul Gambaccini was our host for the evening and what a great choice that was: the man needed no script, no notes, just a quick briefing and on stage he goes, a walking encyclopaedia who proved he really knows his stuff, effortlessly conducting the entire show.
Quincy arrived at the venue accompanied by his personal assistant  and he was immediately taken to his dressing room where he enjoyed a quick snack and a glass of rosé.
Here, we finally had the opportunity to shake the hand of the Godfather of music industry. To be face to face with someone who made history and worked with every big name you could imagine in the industry it is unbelievable!  Impresario, composer, record producer, film producer, arranger, conductor, instrumentalist, TV producer, record company executive, magazine founder, multi-media entrepreneur, humanitarian, master inventor of musical hybrids…you name it, Quincy has shuffled pop, soul, hip-hop, jazz, classical, African and Brazilian music into many dazzling fusions, traversing virtually every medium, including records, live performance, movies and TV.
His middle name is Delight and what a delight was indeed to enjoy a glass of wine with the man who once worked with Billie Holiday, Ray Charles, Dizzy Gillespie, Count Basie, Ella Fitzgerald and Michael Jackson, amongst many others.
---
THE SHOW
---
The show started with the guest artistes paying homage to Quincy's career by performing songs from his vast repertoire; electrifying performances from each one of them, amazing flow and energy that truly impressed Quincy and the entire audience. Sitting in his Royal box, Quincy humbly asked ''Is this all for me? Are they all here for me?''  He was radiant with joy; you could not see a happier man.
At the end of the set, Paul Gambaccini made his way onto stage to introduce Quincy, the most honoured musician in the world, and how honoured is he? 79 Grammy nominations from which he has won 27!
Quincy danced his way onto stage, he was very charming and his excitement was infectious.
''You are the only man in the world who has a letter of the alphabet all to yourself: if anyone says Q, they know it's you.''  Great opening line from Paul!
The conversation started with emphasizing a fault of the education system in the US which is apparently one of the very few countries in the world with no Minister of Culture, but Quincy hopes to make a difference soon.
''If you know where you come from, you can get to where you're going'' that's Quincy's message to the young generation and projected into his one of his latter projects, a 3d animated film on Jazz music's origins.
It is great to see legends like Quincy with a genuine interest on music education and actually doing something about it.
The first time ever Quincy played in England was in 1996, conducting the band for Phil Collins and Tony Bennett at the Royal Albert Hall for the birthday celebration of Nelson Mandela. Quincy got the dream of his life happening the next day after this event: Michael Caine had a celebration at the Albert Hall and Quincy was invited to conduct the London Philharmonic Orchestra, something he always dreamt of doing.
Quincy Jones and Michael Caine are celestial twins: born in the same year, month, day and hour and almost every year they celebrate their birthdays together.
When Paul mentioned about his numerous awards and nominations, Quincy replied that he doesn't do it for that, he does it because he loves music.
''This was before electricity'' joked Quincy when Paul handed him a re-issue of Lesley Gore ''Girl Talk''. Quincy worked with Lesley when she was 16 y. o. and recorded the pop hit ''It's my Party'', Quincy's first No 1 production in America in 1963. The song contributed with a line to the English language, the famous ''It's my party and I cry if I want to''.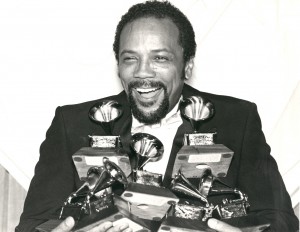 Everybody talks about Thriller but Back on the Block, the 1989 studio album produced by Quincy, brought him seven Grammy Awards! I have never seen anyone holding so many Grammys at one time.
He also mentioned he is involved in the making of 10 movies, 6 albums and 4 Broadway shows, the man should retire but that would be dull and boring he says. And why should he retire? Quincy's got more energy and stamina than anybody I've seen.
Quincy was mentored by the likes of Ray Charles and Clark Terry and he loves mentoring young artists, he goes all over the world to discover and nurture new talent. One of the artistes he currently develops is Jacob Collier, a London musician we had the pleasure of having him performed live. ''I've never in my life seen a talent like this'' stated Quincy. An amazing jazz performance followed, with Quincy looking delighted and the audience mesmerized.
At a very young age Quincy made the decision that he will not let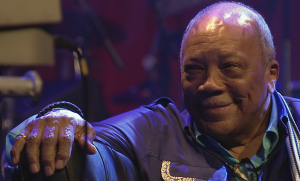 anything in his life become a problem, because that's a choice: a problem or a puzzle. A problem is stressful and makes you give up, a puzzle you can solve.
In the modern era where 98% of music is pirated, how do you launch a new artist, how do you get the word out?
The music piracy is a puzzle, a worldwide puzzle which we are going to solve it. Quincy even spoke about this matter to the House of Commons and he is confident that the record business will be back three times stronger than it was before. ''It is a long haul but we are going to get there because it is not right to let kids work hard, singers and songwriters, musicians, they work hard to put their thing together and to have people just to take their stuff from them, it's not right.''
''Nobody here can live one week without music. The water and music you can't leave without them. If it goes away, everybody will pay attention, but it's gotta be on morality basis.''
Quincy is being approached by many to sign various petitions to stop the music piracy, too many petitions, too many people to be sued, too much work will little results. His belief is that this has to be handled in another way, through morality so they feel like doing it. It almost sounds too good to be truth but could Quincy be on to something big here? Can music piracy be stopped? Seems to be a major project developing with China, something to keep an eye on here.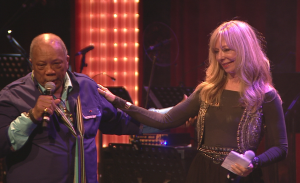 Next on stage was Grif Griffis, Quincy's business partner and jewellery designer with whom he created the QG Peace Cuffs. The five main religions in one, an incantation that carries an energy that makes you believe that everything is possible. Through his many travels around the world and learning 26 languages, Quincy tells us we are all alike and he wanted to express this unity and what is happening around the world by creating this amazing product.
Music has one language, when you sit in front of a piano, we all speak the same language, that's what makes us all united, no matter which part of the world we live in or what religion we follow. How beautifully said.
How Quincy feels about the current digital technology?
''We've got it all now, which is amazing!'' Before the digital era, there were many things they could not do because of the lack of technology. He mentions he used to have long chats with George Martin at Abbey Road and they were both going through the same problems, they did not have the technology to back up their imagination.
''Protools is good, will work for you if you know what you're doing. If you don't know what you're doing and don't understand music, you will work for the machines, trust me, the machines will have you working for them.''
You cannot just count on the machines though to make your music, you have to know how to read music in order to take it somewhere. Samples won't take you there 20 years from now, if you want to make music, learn how to read music and make your own music. You have to learn the history, the roots of where the music comes from in order to know where you're going.
Our entire business entertainment is all about a great song and a great story as Quincy and Rod Temperton both know as they went once through 800 songs to get 9. ''A great song can make the worst singer in the world a star, as we have witnessed, and a bad song cannot be saved by the 3 greatest singers on the planet.'' Now here he referenced Phil Collins – Against All Odds… oops 😉
How do you get warmth and depth in a mix? ''With a good engineer, a great engineer like Phil Ramone'' was Quincy's reply to one of the questions from the audience.
As soon as the Q& A session ended, Paul invited on stage one of the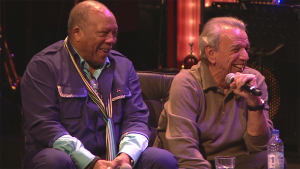 greatest songwriter that ever touched the planet: Rod Temperton. What a treat for the audience: the producer and the writer of Thriller on the same stage!
Quincy describes Rod Temperton as beyond his brother and it is obvious they have a strong connection. How amazing to witness such a meeting and listen to their stories.
Apparently Michael Jackson would never say any bad words, if he wouldn't like something he would be like ''uhh, that's smelly jelly'' hence the nickname of ''smelly'' which Quincy came up with 🙂
Quincy says he loves to take chances. If somebody says ''its' impossible, nobody's done that before'' you've got his attention and Rod is the same way, that's why they are such a great team.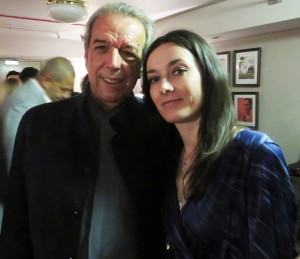 Each songwriter has its own technique. When writing a song, Rod starts with the music first, he completely writes the arrangement before he gets to the words and he lets the music tell him what the words are going to be. The first thing he goes after is the title so he just lets the track playing time after time until he finds words that fit exactly onto that melody. It's all organic, naturally coming together. Titles are very important and Rod had a few good ones because they are keep using them. One of the most successful theatre shows was named after one of Rod's songs: Stomp. Also a movie was named after another one of Rod's songs: Boogie Night.
We really wanted to present Quincy with an award to honour his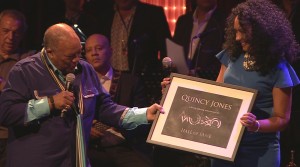 career, but what award can you give to the man who's got them all? And we found something: we invited Kanya King, the CEO and founder of MOBO to induct Quincy into the MOBO Hall of Fame which will open in 2015 to coincide with the 20th anniversary of MOBO awards. The aim is to honour the icons of the music world, share their stories, preserve their history, promote their values and celebrate their excellence.
''This is absolutely beautiful and I am really pleased to be here tonight and all this attention, it's great!'' says an overwhelmed Quincy who wanted to thank everyone in the room.
Standing ovation for Quincy whilst the band started to play ''We Are the World'' and The Royal Docks Community School Choir were invited on stage to perform. All the performers joined and the show ended with this amazing grand finale.
---
THE AFTER PARTY
---
The after party took place at Ciro Orsini's Pizza Pomodoro in Knightsbridge.  The place was packed, live music blasting out loud, drinks and food in abundance courtesy of Ciro. Quincy arrived at the venue accompanied by Rod and Cathy Temperton, Grif Griffis, Jacob Collier and Sonique amongst others.
We were planning an early evening out of concern of Quincy being tired, a nice meal, a few glasses of wine and back to the hotel. But we seriously underestimated Quincy's endurance… we had a lovely meal, many bottles of wine, dessert, more wine….. exhausted guests started to leave one by one and only just a few of us were left standing. By 2am we were the only remaining guests in the venue, by 4am we could hardly keep our eyes open, the only one still going strong was of course Quincy!
If you think the show was exciting, well, it was just an introduction of what was about to come: imagine having five more hours in the presence of Quincy, chatting about the industry, about Frank Sinatra, Elvis Presley, Michael Jackson, his best friend Bono, how surreal to talk about such names with the men who met them all. And Quincy loves to chat, such a lovely person and boy we had such a great gossip but what happens at Ciro's stays at Ciro's… well…most of it 😉
We've spoken with Quincy about many things, of course we all started asking him about the legends he worked with and how were they in the studio and so many other silly questions… Here are some interesting facts and stories we heard from Quincy:
He wasn't very pleased when Michael Jackson used to bring his snake, Muscles in the studio. The snake wrapped around Quincy's leg and used to crawl across the console! He actually once told Michael he was weird.
Frank Sinatra was bipolar. He was like a magician, from another planet, so talented! Quincy has his ring on, with his family crest, from Sicily and he never takes it off.
He has 19 mobile phones but not carrying any with him, his assistant handles his phones.
He is a direct descendant of Eduard I of England and Jane Fonda is his third cousin. His family is part-African, Huguenot-French and Cherokee Indian and Welsh on father's side.
He is not doing any drugs but he thinks marijuana should be legalised.
He used to run errands for gangsters. Until he was 11, all he wanted to be was a gangster. He calls the South Side of Chicago "the world's biggest ghetto".
The moment that changed his life forever was when he stumbled upon an upright piano while involved in a break-in. As others were looking for objects to steal, Quincy sat at the piano and started to play. He knew right there and then that this was what he wanted to do for the rest of his life. It saved his life.
I couldn't help to notice the eclectic pieces of jewellery he was wearing on the night: the ring which belonged to Frank Sinatra, a beautiful custom made pendant, the ''Q Cross'' as I call it which was a gift from Bono on his 80th birthday and the QG peace cuffs, Quincy's joint venture with Grif Griffis.
I had on me the first entry in a multivolume set ''The Quincy Jones Legacy Series: Q on Producing, The Soul and Science of Mastering Music and Work'' and I asked Quincy if he would sign it for me. He was pleasantly surprised I had his book which I had it shipped from the US and I am now the proud owner of a copy with a special dedication by Quincy himself 🙂  The most valuable copy out there!
An amazing experience: thank you Quincy and Rod for sharing such priceless memories with us and well done everybody!